Availability
We are sorry, this accommodation is not available to book at the moment
Villa Amelia
The complex consists of the countryside villa, chapel of Our Lady's Annunciation, manor buildings, swimming pool, garden with courtyard. Around the villa  there are numerous gardens planted with Mediterranean herbs which offer the guests an unique atmosphere and complete privacy on over 20 000 square meters.
The countryside villa is located 5 km eastern from the historical core of Dubrovnik, 800 m from a large sandy beach.
The interior of the villa is slick with decorative stone portals whose profiled shapes define the external and internal space composition. The complex dates back to second half of 16th century. With its style features of late gothic and renaissance it has been enlisted in the cultural heritage register of Republic Croatia. The interior of the villa abounds with restored furniture in baroque style whose rich textures bring the personality and charm.
The countryside villa Amelia, within the surface of 280 square meters offers 5 deluxe bedrooms with spacious bathrooms.
There is air-conditioning, central heating, satellite TV, safe, internet…
The sumptuous living room provides a special pleasure with crackling fire from the antique fireplace.
The positions of the pool and the Jacuzzi ensure complete privacy.
The countryside villa Amelia leaves no guest indifferent, either one is looking for an active holiday or idyllic peace in nature.
Minimum stay: 7 nights
Check in / check out day: Saturday
Air-conditioning, central heating, satellite TV, safe, Internet, antique fireplace, swimming pool, Jacuzzi, fully equipped summer house for relaxation during day
4-ring gas stove, oven, refrigerator, freezer, dishwasher, hood, coffee filter machine, oven
Included in price:
Housekeeper
Gardener
Garage
Grill kitchen
Bowling field with equipment
Various sports facilities
Chef for extra meals
Transfer
Automobile rental
Luxury powerboat rental
Daily rental / tourist tax / electricity / water / final cleaning / linen /
towels/ garden maintence / pool maintence
ADDITIONAL INFORMATION:
Deposit on arrival (cash):1000 EUR
Exchange of towels: every day, bed linen every day
Tourist tax is included in the price.
Check-in time
14:00
Check-out time
10:00
Children and extra beds
Baby cot available on request High chair available on request
Pets
not allowed
Facilities
Air condition
Dishwasher
DVD Player
Gym
Jacuzzi
Kitchen
Parking
Pool
Safe deposit box
Satellite TV
TV
Washing machine
Wi-Fi
Activities
There is a tennis court, bowling field with equipment
Internet
wi-fi
Parking
private parking
We are sorry, there are no reviews yet for this accommodation.
Mlini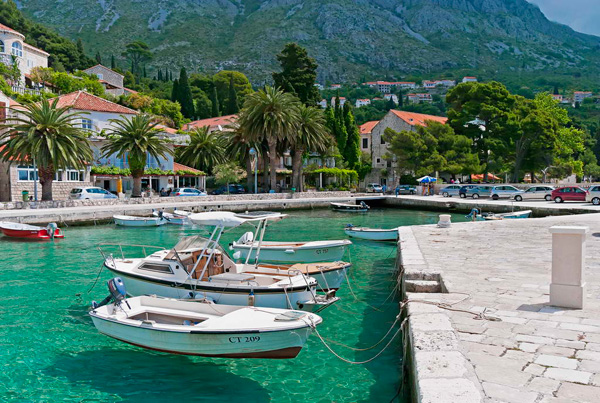 Mlini is the most colorful village in the Župa .The village got its name thanks to the abundant springs on which the mills were built. It  has its own sea and the small river of Zavrelje, shallow pebble beaches and protected bays. Also, Mlini has flower filled gardens and paths, villas, hotels, beautiful houses, rivers and summer residences.
In the past, Mlini was ancient historical settlement Molina. It was the center of the milling trade. In the 15th century, boats regularly carried drinking water from Mlini to Dubrovnik.
Those mills are no longer in function, but they make a lovely sight for photography lovers.
After 1897, the mill grindstones used electric energy.
There is the parish Church of St. Hilarion (sv. Ilar) "sancti Hylacrioni" . It is located in the oldest part of Mlini, whose name has its roots from the Greek word ilaros, which means happy. During the century, it was destroyed and after it was renovated. It was  damaged in the earthquake of 1667. and it was renovated in 1683 . According to ancient legend, St. Hilary, a hermit and saint of Palestinian origins, killed a dragon on the coast of Mlini and freed this area from paganism. The church was built in honor of St. Hilarion (sv. Ilar), who became the patron  of Mlini.
The altar painting Mother of God with Child, St. Peter and St. Hilaryis is from the 18th century.
There is also renaissance castle from the 17th century.
There is an old graveyard beside the church.
Mlini is picturesque village with tranquil countryside and rich cuisine.
If you are in search of a quiet little place to rest your body, Mlini might be just the right place for you.
Mlini is an oasis of the Dubrovnik area and Croatia.
Sports & nature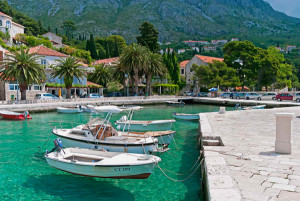 In Mlini you will find natural beaches with clear blue sea, surrounded by rich and fragrant Mediterranean vegetation. There is even one sandy beach and a beach for nudists.


Nightlife info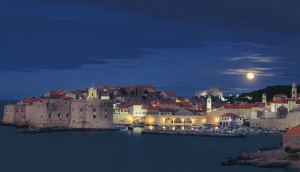 Mlini hasn't got a rich palette of nightlife events, there are several bars and restaurant. But ,there is always Dubrovnik, only a few minutes by car or by bus.


Culture and history info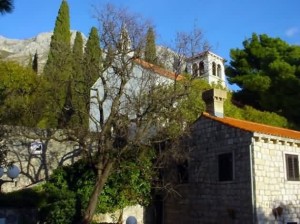 Mlini has a lot to offer. Monumental remains of the antique Greek and Roman settlements. There is the parish Church of St. Hilarion (sv. Ilar) "sancti Hylacrioni" . It is located in the oldest part of Mlini. There is the Church of St. Rocco (sv. Rok), protector from the plague in the 15th century. There is also renaissance castle from the 17th century.

Read more