One day Veli Iz Cruise
When you start planning your sailing vacation, you can decide to visit island of Iz. (Veli Iž and Mali Iž)
Explore Veli Iž , Kukljica and spend all day, just you and sea.
Departure from Zadar.
It is situated in Zadar archipelago. Ten islets and cliffs in close proximity to Iž Island will entice you to take up a sea adventure. However, they are merely an intro to a real nautical treat awaiting for you at its most famous neighbor – Kornati National Park.
In the old center of Veli Iž village you can see the renovated church of St. Peter and Paul from the 14th century, a rustic building with Romanesque period elements. Moreover, you can also check the Ethnographic collection which holds numerous artifacts of authentic Iž ceramics and traditional tools used in pottery craft. The historic remains along with modernly equipped marina are yet another bonus Iž Island offers for your enjoyment besides its natural beauties.
We will see Rutnjak islet, just 300 meters away from Iž coastline. Due to its numerous coves and beaches, beauties of Iž Island are best enjoyed by boat.
Swimming, diving, sailing, we can also make a reservation in good restaurant, you can taste Dalmatian food.
It is experience, it is passion.
In the price is included yacht, captain, fuel and breakfast. Yacht is specially designed for comfortable cruising.
Information and reservation: [email protected]
Zadar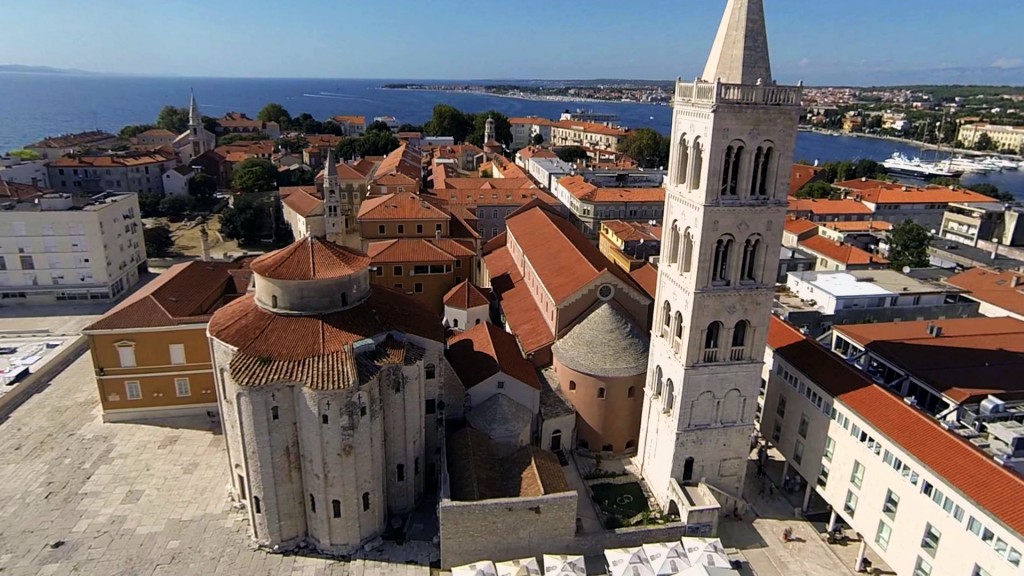 Zadar is a city located on the coast of the Adriatic Sea. It is the historical centre of Dalmatia. The city walls were built in the time of Julius Caesar. Zadar was ruled by the Romans, Byzantines, Venetians and French.
The patron saints of Zadar are St Anastasia, St Krševan, St Simon and St Zoilo . The main street is called Kalelarga. In the centre of town, there is the Roman Forum and the circular church, St Donat from the 9th century. In front of the church extends the ancient main Roman square. The main street which stretches from east to west is Kalelarga or Broad Street.
Zadar is a city with a rich history, many monuments and churches. In the city centre you can see St Anastasia Cathedral, the Church of Our Lady of Health, St Mary Church, St Krsevan Church, St Dominic Church and St Simon Church.
Alfred Hitchcock proclaimed Zadar`s sunset "the most beautiful in the world". There is a "must see" – the Sea Organ, sitting there on the rocky coast which has been turned into steps, you can enjoy the sounds of the sea organ. Also on offer is the view of the Welcome to the Sun which is a connection of lights in rhythm with the waves and sounds.
One trademark of the city is the " barkarioli " which for 800 years has every day connected the two parts of the old port. To feel the breath of the past, it is enough to walk the city park Queen Jelena.
Zadar is a town which offers accommodation, cultural heritage and gastronomic cuisine. To get acquainted with the history of Zadar, visitors can go back in time. A walk across stone streets will become a walk through history, and also an experience of modern life. Zadar is a city you will certainly come back to , and you will want to take the original Zadar Maraschino liqueur with you .
Near Zadar, there are the Kornati National Park, Paklenica National Park, Krka National Park and Plitvice Lakes National Park.
One who comes to Zadar and Croatia will return again!
Read more
We are sorry, there are no reviews yet for this cruise.