Availability
We are sorry, this accommodation is not available to book at the moment
Villa Aria
Villa Aria is situated in Brodarica next to the city of Šibenik. Šibenik is a historic town located in Central Dalmatia where the river Krka flows into the Adriatic Sea. Brodarica is located on the south part of Šibenik, on the Adriatic Sea coast across the island of Krapanj. It is a peaceful, pleasant suburb with villas and family houses near picturesque beaches.
Villa Aria bears characteristics of traditional Dalmatian stone house. It was completely renovated in 2013. This charming villa can accommodate 8 to 11 people comfortably. On the ground floor there is a kitchen / dining room / sitting room area, 1 bedroom and 1 en suite bathroom. The upper floor has 3 bedrooms and 3 bathrooms. To make your stay in Brodarica as pleasant as possible, the villa has been equipped with all the equipment you might need and the interior and grounds have been tastefully designed.
Minimum stay: 7 nights in July and August; for other periods, please inquiry.
Day of arrival: Saturday in July and August; for other periods, please inquiry.
Washing machine / drier, air conditioning in every room, satellite TV, TV in every room, safe, free Wi-Fi, Internet connection, hair drier in each bathroom, iron, ironing board, vacuum cleaner, barbecue, outdoor fireplace, indoor fireplace, garden furniture, video intercom, parking for 3 cars, shampoo, conditioner, soap in each bathroom, towels, pool towels
4-ring ceramic hob, oven, refrigerator, freezer, hood, mixer, set of dishes for cooking, set of 12 plates (shallow plate, soup plate, dessert plate), set of 12 coffee cups, extra 6 cups, set of 12 wine glasses, 12 glasses for juice and beer, set of 12 bowls for ice cream, stainless steel plates, 2 ceramic bowls, glass bowl for fruits, set of knifes, wooden cutting board
Double-bedded rooms: 3
Twin-bedded rooms: 1
Additional single bed available in one double bedroom.
TV in every room, internet connection, Wi-Fi, air conditoning, armchair, bathroom, wardrobe, mirror, dresser with mirror, painting, rugs, 2 rooms with balcony, 3 rooms with sea view.
Bathrooms with bath: 2
Bathrooms with hydro-massage shower: 2
1 separate WC
In every bathroom: heater with remote control, bathroom slippers, toilet, bathroom sink monoblock with mirror, cabinet, bathroom carpets, hair drier. Stainless steel holders for towels and toilet paper. Bidet In one bathroom.
Daily rent / electricity / water / Wi –Fi / satellite TV / final cleaning / linen /
towels / garden maintenance / pool maintenance
Tourist tax is included in price.
ADDITIONAL INFORMATION:
Deposit on arrival (credit card authoristaion) 500 EUR
Short stays possible in periods: 01.09.-15.06.2014.
Check in / check out day for seasons IV and V: Saturday
Check-in time
16:00
Check-out time
10:00
Children and extra beds
3 (pull-out double sofa in the sitting room and one single additional bed in one double bedroom)
Pets
not allowed
Facilities
Air condition
Dishwasher
Grill
Kitchen
Parking
Pool
Satellite TV
TV
Washing machine
Wi-Fi
Parking
for 3 cars
We are sorry, there are no reviews yet for this accommodation.
Šibenik
Šibenik is situated along the mouth of Krka on the most picturesque part of the eastern Adriatic coast. As the oldest Croatian autochtonous town it was first mentioned in 1066 during the reign of the Croatian King Kresimir IV.
Šibenik is the oldest Croatian town on the Adriatic coast. It is also called Krešimir's town, since it was the residence of King Petar Krešimir IV, the most important ruler of the ancient Croatian state. The first written mention of Šibenik was found in King Krešimir's papers dating from 1066 A.D.
The rich cultural and historical heritage of the city is visible in the impressive Cathedral of sv. Jakov [St. Jacob], built by the famous architect Juraj Dalmatinac and is under UNESCO protection. Numerous churches, monasteries, palaces and four fortresses  also testify to the perseverance, renunciation and faith of generations of people of Šibenik. Šibenik is a city of culture. It is  the host to the only International Children's Festival as well as traditional events such as Dalmatian chanson Evenings.
Near the town there are two national parks – Krka and Kornati whose fascinating landscapes take visitors breath away.
Built between 1431 and 1535, St. Jacob's Cathedral witnessed important exchanges in the area of monumental art between North Italy, Dalmatia and Tuscany in the 15th and 16th centuries. Three architects – Francesco di Giacomo, George of Dalmatia and Nicholas of Florence – developed a structure fully made of stone.
Its narrow winding streets, stony houses, many staircases and the remains of the city walls give Šibenik that romantic Mediterranean atmosphere. The St. Jacob's Cathedral is the most famous building in Šibenik. The erection of the cathedral took over a hundred years. It was made according to sketches by Juraj Dalmatian, a renowned master builder from Zadar. Made of stone exclusively, its unique constructions were both bold and unusual for that time..
The cathedral is also known for its Apse, with a crown of 72 heads portraying the contemporaries of Juraj Dalmatian in a very realistic manner. The cathedral, the Renaissance town hall, the Prince's castle, the neighboring churches and palaces – all are a part of an impressive square, probably the most beautiful one in the town-planning heritage of Croatia.
Šibenik is  beautiful destination for your vacation in Croatia.
Sports & nature
Šibenik cruiser regatta A basketball tournament in memoriam of Šibenik's great man Dražen Petrović takes place every year on the anniversary of his death, 07.06.


Nightlife info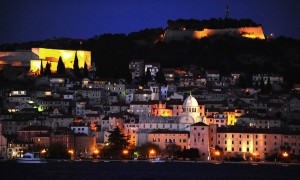 Rock and pop concerts, music festivals...


Culture and history info
The most distinctive trait of the cultural scene in Šibenik, and its trademark of a kind, is the International Children's Festival. Musica appassionata is Šibenik's classical music festival organized by the Croatian National Theatre at the end of July and at the beginning of August. It brings together eminent national and foreign artists.

Read more