Hotel Mozart
Hotel "Mozart" is an elegant boutique hotel built in 1894. Mozart, the synonym for a warm and cordial welcome, has been writing the tourism history of the pearl of Kvarner Bay, Opatija, from the very first letters. The Art Nouveau hotel building, which is an architectural monument, is located in the "heart" of Opatija, just few steps from the sea and close to the nearby tennis courts and all the main cultural and historical attractions.
It has:
The wellness oasis
Guests can use a new spa, intimate relax oasis, fitness and beauty centre. They can start by recharging the batteries and bringing the harmony back to their busy everyday life.  Get rid of the daily stress in  saunas and baths, dive into the whirlpool and allow the water to take all your problems away.
Piano bar
In  piano bar, the affirmed musicians and up coming young talents relax every tense brain cell with their finger dance on the keyboard and take everyone along to the world of imagination, in the glamour and splendor of the palaces, in the embracing atmosphere of romantic Vienna.
Garden terrace
Find peace and harmony, vegetation and bird singing on  peaceful terrace in the city centre but so far from it…relax and enjoy the delicacies of national and international cuisine.
Hotel Mozart is a pure luxury.
The BB price includes:
Buffet breakfast, use of Hotel's SPA-zone* (whirpool,
infra-red sauna, Finnish sauna, Turkish bad, Japanese bath),
use of Hotel's fitness room, use of free Internet (WI-FI) in rooms
and all other Hotel's areas.
*Children up to 3 years of age are not allowed to enter or use SPA facilities.
*Children from 3 till 16 years of age can use SPA-zone only if accompanied by an adult.
Supplements (per person, per day):
Visitor's tax:
7,00 Kn (ca. 1,00 €)
Lunch or dinner on request
25 € per person & day
Daily stay:
50% of room price
Late Check out:
50% of room price
Discounts:
Children till 3,99 years old
100%(without bed and service)
Children from 4 till 11,99 years old on additional bed
75% of the room rate
Children from 4 till 11,99 years old on main bed
65% of the room rate
Adult on additional bed
60% of the room rate
Room description:
Bath or shower, toilette, hair dryer, telephone, CABLE-TV, minibar, safe deposit box, air-condition
Check-in time
14.00
Check-out time
11.00
Children and extra beds
baby cot 15€ per day additional bed on request
Pets
small dogs only: 15€ per day
Facilities
Air condition
Balcony
Breakfast
Fire and smoke detectors
Fitness room
Jacuzzi
Mini-bar
Parking
Pool
Room service
Safe deposit box
Satellite TV
Sauna with shower
Telephone
TV
wellness
Wi-Fi
Parking
Parking 10€ per day
We are sorry, there are no reviews yet for this accommodation.
Opatija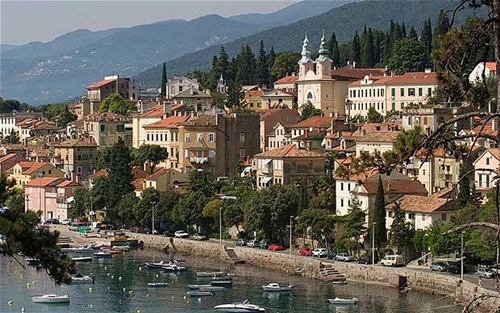 Opatija is located in the Kvarner Bay, at the foot of the Mount Ucka and some 15 km from Rijeka. The center of the Riviera, Opatija is surrounded by numerous small towns and villages, from Volosko to Lovran, connected by a seafront promenade Lungo mare.
Opatija is resort town.You can see there houses and villas in grand neo-baroque and rustic Italian-style, pink walls, fluted columns, fading red tiles, grand staircases and tiny balconies facing the sea.
Opatija has remained in complete harmony with Nature right up until the present day. Well-maintained public gardens, 12-km-long coastal promenade known as the "Lungomare",  beaches and fountains, it is beautiful  Opatija.
We can tell that Opatija is Mediterranean oasis and   now it is closer to Central Europe than ever before thanks to its network of new roads.
The feel of the 19th century is everywhere and between  grand hotels with elegant facades it is easy to imagine a  past, a time from Austria's Hapsburg dynasty.
Opatija's hotels have a long history: the oldest among them is the Kvarner. The hotel was built in 1884 and marked the beginning of tourism.
The nearby islands are Krk and Cres.
The hotels in Opatija are ideal to relax and recharge your batteries.
Opatija is a holiday destination of elegance and style!
Sports & nature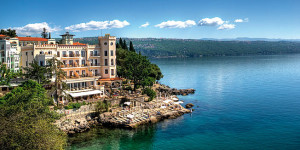 You can visit Lovran, Moščenička Draga.. Lovran offers unspoiled nature in a seafront setting. The town of Medveja offers numerous walking and biking trails, it is ideal for the active vacationer. Medveja rests on the Adriatic Sea one of the most beautiful sights in the Kvarner region.


Nightlife info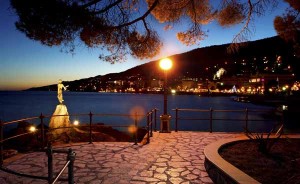 Opatija's restaurants are very famous. Enjoy top-quality cuisine and great service in an ideal seafront setting on the bay of Kvarner – Opatija. You can find bars, disco, casino.


Culture and history info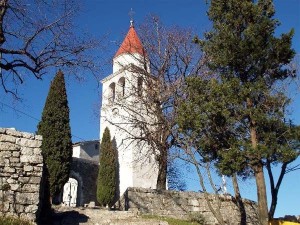 A walk through Opatija you will see numerous monuments celebrating the Opatija's splendid past. Villa Angiolina, Saint Jacob's church, the Open Air Summer Theater, the Helios and Selena fountain and the Croatian Walk of Fame. Fountain Slatina is located on Opatija's main street in a charming park next to the Palace-Bellevue hotel, right across the street from the popular Slatina beach. Constructed in 1899, Art pavilion "Juraj Matija Sporer" was originally built as a trendy meeting place for the elite. Today, it is a top art gallery. It was fully renovated in 2003 in the aim of creating a high quality exhibition space and hall for cultural manifestation. The Madonna del Mare originally stood where the Maiden with the Seagull is located today. A replica of Madonna can be seen at St. Jacob's Church.

Read more