Availability
We are sorry, there are no rooms available at this accommodation at the moment
Mozart
Hotel "Mozart" is an elegant boutique hotel built in 1894. Mozart, the synonym for a warm and cordial welcome, has been writing the tourism history of the pearl of Kvarner Bay, Opatija, from the very first letters. The Art Nouveau hotel building, which is an architectural monument, is located in the "heart" of Opatija, just few steps from the sea and close to the nearby tennis courts and all the main cultural and historical attractions.
The elegant boutique Hotel Mozart is located next to the main beach in central Opatija and near the main promenade.
All rooms offer stylish furnishings, a minibar, a safe and satellite TV. Rooms are spacious and feature classical decor and modern amenities. Private bathrooms provide a bath and hairdryer, while the balconies overlook the sea.
There is also an indoor garden and outdoor terrace, a smaller meeting room and a piano bar at guests' disposal. Breakfast is served each day at the hotel's restaurant or in the garden. The restaurant serves fresh and seasonal Mediterranean cuisine.
The Spa and Wellness Centre offers Finish and infra-red saunas, Turkish and unique Japanese baths, hot tubs, as well as a gym and fitness area. Guests can also enjoy beauty treatments and top massages.
The property is close to the nearby tennis courts and the main cultural and historical attractions of Kvarner Bay. Visits to several National Parks can also be organised with the help of the staff. Rijeka Airport is 40 km away.
The wellness oasis
Guests can use a new spa, intimate relax oasis, fitness and beauty centre. They can start by recharging the batteries and bringing the harmony back to their busy everyday life.  Get rid of the daily stress in  saunas and baths, dive into the whirlpool and allow the water to take all your problems away.
Piano bar
In  piano bar, the affirmed musicians and up coming young talents relax every tense brain cell with their finger dance on the keyboard and take everyone along to the world of imagination, in the glamour and splendor of the palaces, in the embracing atmosphere of romantic Vienna.
Garden terrace
Find peace and harmony, vegetation and bird singing on  peaceful terrace in the city centre but so far from it…relax and enjoy the delicacies of national and international cuisine.
Hotel Mozart is a pure luxury.
Rates includes:
Breakfast, use of Hotel's SPA-zone* ( infra-red sauna and Finnish sauna, Turkish bad, Japanese bath), use of Hotel's fitness room, use of free Internet, VAT
*Children up to 3 years of age are not allowed to enter or use SPA facilities.
*Children from 3 till 16 years of age can use SPA-zone only if accompanied by an adult.
Supplements (per person, per day):
Local city tax – according the sojourn tax act for year 2021
Lunch or dinner on request -EUR 30 per person per meal, HALAL dinner or lunch EUR 40 per person per meal
Baby cot – 15 € per night                                                                                                                                                                        Pets (small dogs up to 10 kg) – 25 € per night
Early check in/Late check out – 50 €                                                                                                                                            Daily stay 50 %
Check in: 14:00                                                                                                                                                                              Check out: 11:00                                                                                                                                                                                Arrivals daily
Room description:
Standard rooms – bath/shower, toilette, hairdryer, telephone, SAT TV, minibar, deposit box, air condition                Superior rooms – bath/shower, toilette, hairdryer, telephone, SAT TV, minibar, deposit box, air condition                Deluxe rooms – bath/shower, toilette, hairdryer, telephone, SAT TV, minibar, deposit box, air condition, balcony, sea view
Check-in time
11:00
Check-out time
14:00
Children and extra beds
baby cot 15€ per day additional bed on request
Pets
mali psi 25€ po danu
Facilities
Balkon
Centar
Detektor požara i dima
Doručak
Jacuzzi
Klima uređaj
Mini bar
Parking
Posluga u sobu
Satelitska TV
Sauna s tušem
Sef
Soba za fitness
Telefon
Wellness
Wi-Fi
We are sorry, there are no reviews yet for this accommodation.
Opatija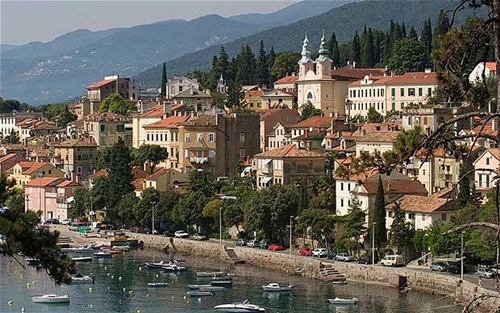 Opatija je grad bogate povijesti i iznimne kulture i Opatija predstavlja savršen spoj elegancije i predivan pogled na more sa svih strana. Pruža nezaboravan odmor u Hrvatskoj.
Ima idealan položaj i klimu. Smještena je zmeđu mora s jedne strane i bujnog  zelenila planine Učke u zaleđu  tako da  Opatija predstavlja  poželjnu i atraktivnu  europsku destinaciju.
Povijest moderne Opatije započela je prije  više od 160 godina.
Opatija je poželjna destinacija u svako godišnje doba zbog blage mediteranske klime i velikog broja sunčanih dana.
Lungomare, čiste plaže, parkovi, odlični   restorani s gastronomskom ponudom  i obilje kulturnih događanja,  čine Opatiju gradom  prepunog  sadržaja.
Djevojka s galebom simbol je Opatije i cijelog Kvarnera. Elegantna statua na stijeni uz obalno šetalište Lungomare u Opatiji krije zanimljivu priču kai i identitet djevojke koji je desetljećima bio tajna.
1891. kada je grof Arthur Kesselstadt tragično izgubio život u proljetnoj oluji u moru ispred Opatije, njegova obitelj koja je bila neutješna, postavila je na stijenu uz more skulpturu "Madonna del Mare"  kako bi čuvala uvijek  njegovu dušu. Vrijeme je ostavilo trag na skulpturi i oštetilo je, no ona je kasnije restaurirana. Pozlaćena replika danas se nalazi pokraj crkve sv. Jakova, a original se čuva u Hrvatskom muzeju turizma u Vili Angiolini.
Djevojka s galebom i dan danas elegantno stoji na opatijskoj obali, pozdravlja opatijske goste.
Sports & nature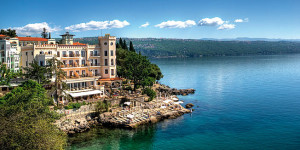 Blizina mora i planina daje bezbrojne mogućnosti rekreacijskih aktivnosti i zabave za sve uzraste. Opatija je oduvijek bila poznata kao destinacija za wellness, a danas se u gradu nalazi nekoliko vrhunskih wellness centara.


Nightlife info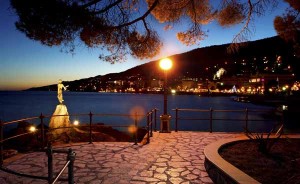 Opatija ima bogat noćni život. Ulične zabave, festivali, koncerti kao i druga kulturna događanja pružaju ugođaj. Mladi se mogu zabaviti u disco klubovima, oni željni mondenog života mogu posjetiti kockarnice.


Culture and history info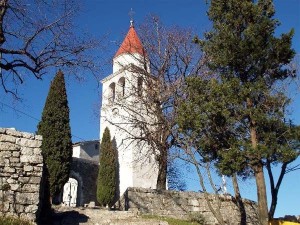 Opatija je grad bogat poviješću. Vraćamo se u doba Austro-Ugarske, fasade daju pečat nekom prošlom vremenu. Opatijski perivoji Sv. Jakov i Angiolina uređeni su između 1845. i 1860. godine, a u njima su zasađene biljke iz cijeloga svijeta. Danas ovi omiljeni parkovi predstavljaju spomenike opatijske perivojne arhitekture. Proglašavani su najljepšim parkovima u Hrvatskoj. Crkva sv. Jakova izgrađena je početkom 15. stoljeća kao benediktinski samostan po kojemu je grad i dobio ime. Do danas je međutim preostalo vrlo malo od njezinog izvornog izgleda, jer je adaptirana 1506. godine, renovirana krajem 18. stoljeća, a proširena tridesetih godina 19. stoljeća. U crkvi se nalazi kopija reljefa "Pieta" koji prikazuje umirućeg Krista s majkom Marijom i Marijom Magdalenom. To je djelo poznatoga hrvatskog kipara Ivana Meštrovića.

Read more