Availability
We are sorry, this accommodation is not available to book at the moment
Celine
Countryside house Celine is decorated for your perfect holiday, a runaway from every day, tire and stress. It will relax your body and soul. It is located in a small village near Višnjan in Istria. Rural countryside, fresh air, bird tweet, it is ideal for your vacation in the heart of Istria.
In your own garden you can pick seasonal vegetables – tomatoes, lettuce, carrots, cabbage, cucumbers, mangold, etc… and also fruits sucha as figs, plums, cherries, strawberries, currant, hazelnuts, walnuts…
Depending on the season, some other surprises are waiting for you: eco fruits and vegetables from owner`s gardens, wild mushrooms, asparagus, grapes, chestnuts, etc.
About countryside house:
The main bedroom with a double bed in relaxing yellow colours offers a beautiful view on greenery and fruit yard.
Second bedroom has two single beds which can be put together if needed.
There is also a sofa bed if needed for an extra two persons in the ground floor.
Kitchen
Besides of standard cooking, food and beverages equipment, there is also a fridge with small freezer, an owen, a stove, a microwave, a toaster, a filter coffee machine, an electric kettle and a a dish washer.
Bathroom
Shower, toilet, bide, heating, washing machine
Garden and exterior
500 square meters garden, vegetable garden, orchard, big terrace, barbecue, jacuzzi, bench, parking
Other
Air conditioning, fireplace, free Wi-Fi internet access, Satellite TV, an extra toilet in ground floor
The owners live with nature and they we'll be glad to share their enthusiasm with you.
They can recommend you some interesting bike routes, organize hunting (depending on hunting season), trap shooting, traditional and classic bowling…because they are active in different sports.
On more than 500 square meters infield, the owners have redecorated a vegetable and flower garden. For daily relax, long evening talks and fun or morning coffee drinking there is a big terrace and a little, more intimate summer house. During clear and sunny days you will be able to find sunbathed part in the garden but also at the same time you won't be missing shade.
A brand new jacuzzi with 5 seats (including 2 lounges), 26 All-Active Hydrotherapy Jets and 8 Air Jets will chill you out during hot summer months, or warm you up during spring and autumn period. Wooden beach around it and cozy deck chairs enable you to read your favorites books, sunbathe or to work on your tablet or smartphone.
Owners are friendly, for kids there is a trampoline and a swing at their disposal. The owners are happy and friendly family. Your children can play together with their children. They prefer animals. There is also a newly equipped playground only 100 meters away from the villa.
Other:
Deposit: 200 €. Smoking isn`t allowed on the first floor (in bedrooms), but in the ground floor and outside the house smoking is allowed.
Check-in time
16:00
Check-out time
10:00
Cancellation / Prepayment
20% advanced payment is necessary. If cancellation is received 40 days or more before the arrival date, whole advance payment will be refunded. In all other cases the advance won`t be refunded.
Children and extra beds
There is a possibility of putting a crib in the ground floor. An additional fee to be paid (30€). There is also a sofa bed for extra 2 persons.
Pets
Pets aren`t allowed in house.
Facilities
Air condition
Dishwasher
Grill
Jacuzzi
Kitchen
Parking
Satellite TV
Washing machine
Wi-Fi
Activities
They can recommend you some interesting bike routes, organize hunting (depending on hunting season), trap shooting, traditional and classic bowling...because they are active in different sports.
Internet
wi-fi
Parking
Parking available.
We are sorry, there are no reviews yet for this accommodation.
Višnjan
Višnjan is a small town in Istria. The name Višnjan probably derives from the Latin word Vicinianus meaning (near), because in the past Višnjan was the closest possession of Poreč.
There, you will recognize the spirit of the rich historical heritage. Every stone, house, street, corner, they speak about  history.
There are a lot of monuments. Several prehistoric settlements were found here and they show the impressive architecture of  past times. You will see the Gothic chapel of St. Anthony the Abbot (Sv. Anton) from the 15th century. Famous town gate decorated with a relief of the Venetian lion from 1517  is in the center. Town walls are  built in the 13th and 14th century. There is  27 meters high bell-tower, Municipal loggia of 18th century, the Parish church, Quiricus and Julita  from the 19th century.
Inhabitants succeeded to preserve their autochthonous offer, a rich variety of traditional Istrian dishes, quality wines, olive oil and many other traditional and ecological products. Agrotourism is very popular. 
You can buy original souvenir made by local craftsmen.
Red soil vines and olive trees are carefully cultivated, green fields feed the rare and powerful autochthonous cattle – Boškarin.
Višnjan is world known for its astronomical achievements.  In Višnjan, there is the famous observatory, which is one of the ten most productive observatories of the world of all times. It is the first in Europe by the number of discovered asteroids.
With this new kind of attractiveness, the astro-tourism, Višnjan region is  known by the number and quality of agro-tourist farms.
The local residents known for their conformity, opened the doors of their homes and offered to visitors real customs and pleasures of the Istrian man.
Sports & nature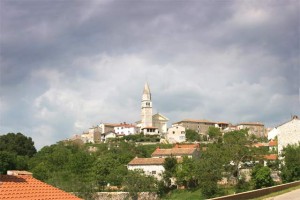 The view from the hill of the old town you will see the green fields and lush vineyards. Local people, on its red soil vines and olive trees cultivated green fields and feed the rare and powerful autochthonous cattle - Boškarin.


Nightlife info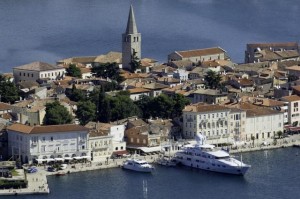 Višnjan is for people who love peace, but not far is town of Poreč. But in Višnjan, there are events as: Astrofest, traditional meeting for astronomy lovers -festival 21.06.-22.06.; Mandalenjina - folk festival; sports competitions and entertainment, 25.07.-26.07.; St.Lovro night - the public perception of Perseids, 12.08.-13.08.


Culture and history info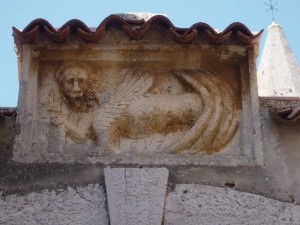 In Višnjan, you will see a lot of monuments. It is a trace of the past. Venetian style Baroque municipal building - from the 17th century, the old square Tićan, Observatory building - the first example of cyber romance; St. Anthony Abbot Church - from the 13th century, the entrance to the old town, with frescoes and Glagolitic inscriptions; Church of All Saints, St. Mary Magdalene - the 16th century; in the cemetery; Cave Baredine- natural geomorphologic monument, beautiful hall decorated with stalagmites, stalactites and underground lakes; Church of St.Kvirik and Julita - from the 19th century; with paintings of Venetian masters from the 17th century....

Read more