Availability
We are sorry, this accommodation is not available to book at the moment
Villa Meneghello Ap A
Villa Meneghello is situated on the waterfront and has an amazing view of the open sea, yet it is only a 15-minute walk to the centre of the town of Hvar. Here there is always the buzz of activity and a cosmopolitan atmosphere with people from all over the world. Yet the villa, nestled in a 1,000 m2 large park of old pine trees and exotic plants is completely private, hidden from passers-by. The simple elegance of the Villa belies its modern conveniences.
The two luxurious apartments cover 300 m2.
One apartment is on the first floor, and the other on the ground floor.
The Villa can also be rented as a whole.
Villa Meneghello has stunning ambience with unique design features and many works of contemporary Croatian artists.
In the park there is a private swimming pool, with hammocks, deck-chairs, coffee tables, a sun deck and a ping-pong table: all for 'dolce far niente'!
You can also swim in the sea and sunbathe on the rocks which are only a s short stroll down a little path and you are there! Imagine a morning swim before breakfast and quiet times for total relaxation. But, if you feel like visiting the Hvar town centre, or other nearby islands, they are right there, within your reach.
If you are a beach fan, then you can also take a walk to a famous Hvar beach known as Pokojni dol. It is only a couple of hundred meters away and it is ideal for children.
Villa Meneghello in Hvar is the Meneghello family's latest step to delight its many regular guests who were curious about the passion of Hvar summer nights.
Passion and tranquility
Every day guests of Villa Meneghello have a boat at their disposal which can take them from Hvar to the Meneghello Resort on the island of St Clement, part of the Paklinski archipelago. The Meneghello family has just celebrated a hundred years of its special tourism, giving guests from all over the world its unique style of hospitality and Croatian culture, all set in the beautiful luxurious botanical garden that is Palmižana.
If you visit Palmižana you can dine in either of the two excellent restaurants there which serve traditional, Mediterranean food. Here you can wander in nature, visit the museum of amphorae, the gallery with works of renowned artists, the art shop, or experience the Palmižana beaches. Here too guests can also rent small boats, as well as kayaks, to explore the bays of the archipelago.
APARTMENT A- downstairs apt. for 6 people + 1 extra bed possibility
Bedrooms (2 double bed and 1 twin) + 1 living room with a couch, dining space and fully equipped kitchen, 2 bathrooms + 1 en suite bathroom in the master bedroom, large terrace for outdoor dining with a beautiful sea view, 2 air conditioning/heater.
Minimum stay 7 nights in June, July, August. Less nights booking possible out of the above mentioned period. Arrival days: Saturday, other days on request.
Price does not include tourist tax 1.00 EUR ( per adult per night)
During July and August the villa can be ONLY rented as a whole .
The villa can accommodate max 15 guests, in case of more than 12 people there is an extra cost to be paid for the use of the extra bed (50 €/person/night)
Security deposit– must be provided on arrival in cash:
500.00 € per apartment
Final cleaning 200 € for the whole villa, 100 € per apartment.
If no damage was made, the deposit will be fully refunded before departure, upon the handover of the keys.
Check-in time
16:00
Check-out time
10:00
Children and extra beds
Possibility of 1 extra bed
Pets
Kućni ljubimci su dozvoljeni
Facilities
Balkon
Bazen
DVD Player
Klima uređaj
Kuhinja
Parking
Plaža
Satelitska TV
Wi-Fi
Internet
wi-fi
Parking
Parking za 2 automobila.
We are sorry, there are no reviews yet for this accommodation.
Hvar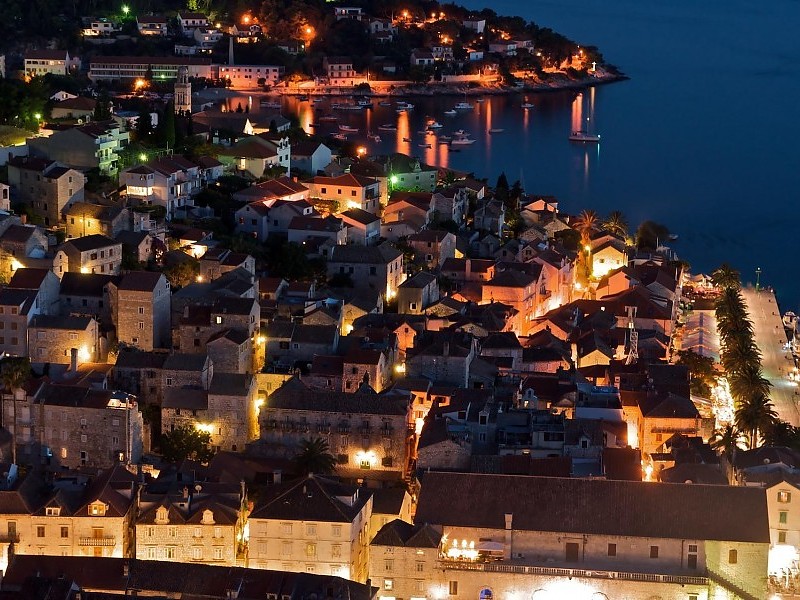 Hvar je  najduži i najsunčaniji hrvatski otok te jedan od najljepših otoka na svijetu. Dio je srednjodalmatinskog arhipelaga.
Najveća mjesta na obali otoka su: grad Hvar, Stari Grad, Jelsa, Sućuraj i Vrboska.
Ostala mjesta na obali su:  Ivan Dolac,  Zavala. Milna i Sveta Nedilja.
Mjesta u unutrašnjosti su: Humac, Poljica, Zastražišće, Brusje, Grablje, Selca kod Starog Grada, Dol, Rudina, Vrbanj, Svirče, Vrisnik, Pitve, Gdinj, Bogomolje i Selca kod Bogomolja.
Otok Hvar od otoka Brača dijeli Hvarski kanal, od Visa Viški kanal, od Korčule Korčulanski kanal te od poluotoka Pelješca Neretvanski kanal. S južne strane nalaze se Pakleni Otoci, a ispred srednjeg dijela otoka nalazi se otok Ščedro. Sjeverna obala otoka je mnogo bolje razvedena od južne.
Otok Hvar poznat je po mediteranskoj klimi s blagim zimama, ugodno toplim ljetima i velikim brojem sunčanih sati.
Gospodarstvo se temelji na turizmu, ribarstvu i poljoprivredi (vinogradarstvu, maslinarstvu te uzgoju ružmarina i lavande). Tri ribarska mjesta na otoku su: Sućuraj, Vrboska i Hvar.
Otok Hvar naseljen je još od prapovijesti. Kasnije su ga naselili Iliri, a tu je i živjela Ilirska kraljica Teuta. Brojne gomile na otoku još su iz ilirskih vremena. Grci su na otoku osnovali antički grad Faros (danas Stari Grad).
U 16. i 17. stoljeću Hvar je bio centar hrvatske književnosti (Petar Hektorović i Hanibal Lucić).
U gradu Hvaru i ostalim mjestima na otoku postoje brojna arheološka nalazišta i kulturne znamenitosti koje svjedoče o bogatoj i burnoj povijesti tog otoka.
Razvedena obala,  plaže, obilje sunca, mirisi lavande, maslina, netaknuta priroda, veoma bogata povijesna i kulturna baština, izvrsna vina, sve su to  razlozi su zbog kojih je otok Hvar nadaleko poznat.
Hvar i Hrvatska su razlog za provesti svoj odmor na najljepšoj destinaciji.
Sports & nature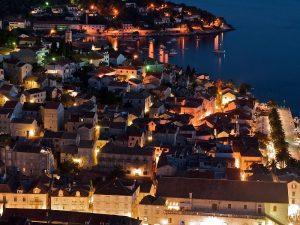 Razvedena obala, plaže, obilje sunca, mirisi lavande, maslina, netaknuta priroda.....sve je to Hvar.


Nightlife info
Hvar ima bogat noćni život. Pjesma, dobri restorani, domaća gastro ponuda, dobra hvarska vina...Hvar živi 24 sata.


Culture and history info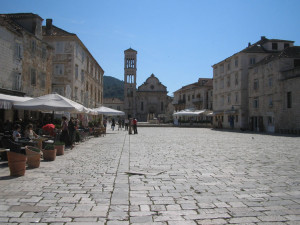 Otok Hvar naseljen je još od prapovijesti. Kasnije su ga naselili Iliri, a tu je i živjela Ilirska kraljica Teuta. Brojne gomile na otoku još su iz ilirskih vremena. Grci su na otoku osnovali antički grad Faros (danas Stari Grad).

Read more