Availability
We are sorry, this accommodation is not available to book at the moment
Villa Geba VG
Would you like exclusive use of Villa Geba? Located in Saint Stefan, Montenegro, beautiful Villa Geba 5* . Villa Geba serves as a tranquil hideout filled with relaxation and bliss or an extravagant affair of lavish exuberance. It transforms itself around its guests and desires and boasts eight, uniquely designed suites of the highest luxury ranging in size from 100 m² to 145 m². The inspiration to offer such a diverse experience hails from the Montenegrin saying 'one hundred people, one hundred temperaments' with each suite speaking to a different human spirit, personality and state of mind. Discover our suites for a truly luxurious experience.
Villa Geba's Spa is an extension of the beautiful world around us. The infinity pool effortlessly melts into the sea below and the spa's earthy, soft tones, trickling fountains and idyllic views make our guests feel like they have just discovered a Montenegrin paradise. Our spa facilities include a luxurious jacuzzi, hammam and sauna, as well as signature treatments featuring french beauty and wellness brand, Terrake.
From a hot stone massage to a regenerating anti-aging plant scrub, any guest will be instantly transformed by this serene oasis.
Health and Relaxation -Exclusive spa treatment by terrake
Spa by terrake – the ultimate French beauty and wellness brend, holistic connection to nature
Selene, Elena, Harmonia, Salma, Appolonia
Villa Appolonia is a 180m² stand alone, duplex villa boasting four contemporarily designed rooms. This exclusive residence features an inviting, open-plan layout and stunning, private views of Sveti Stefan and the Adriatic sea. Its style is minimalistic and fresh with a colour palette that reflects hues of the sea and sand below. Watching the majestic sunset from Appolonia's private, spacious terrace is a glorious way to take in the beauty of this villa.
From 2 to 4 bedrooms and bathrooms
Includes continental breakfast
Can host up to 8 adults
Up to 380 m2 in Villa Configuration
Suite Salma, prestige suite extending 145 m2 boasts an extravagant 40 m2 private terrace and grand archways throughout. Much more than a suite, Salma impresses with every luxury detail. This prestige suite instantly transports its guests to the lavish riads of Morocco with luxurious, Moorish decor and grand, traditional style archways. Large, inviting sofas central to the room are the perfect place to relax and take in its breathtaking features. From hammam inspired bathrooms to an expansive terrace overlooking Villa Geba's stunning infinity pool, this palatial suite is the most perfect oasis.
2 bedrooms, 2 bathrooms, 4 adults, 140 m2
Suite Harmonia, two bedrooms 114 m2, prestige suite with an impressive 34 m2 terrace overlooking the idyllic infinity pool of Villa Geba. Cris, pure tones throughout inspire feelings of tranquility and calmness.  Suite Hamonia, Villa Geba flaunts an airy and light atmosphere that effortlessly welcomes sea breezes rolling in from the Adriatic. Pure white tones hail as the predominant colour palette in this room and large outdoor beds line its tranquil terrace. Paying tribute to Greek goddess Harmonia, the features of this suite symbolize balance and purity.
2 bedrooms, 2 bathrooms, 4 adults, 120 m2
Elena, elegant 120 m2 suite exuding high-class luxury with its floor to ceiling windows and gold highlights. Featuring two delux bedrooms and museum inspired living spaces, the Elena suite will take your breath away. The unmatched beauty of Greek Goddess, Helen of Troy, was the inspiration behind the Elena suite. Its alluring elegance is brought to life through black and gold accents touching every corner and magnificent artwork adorning the walls. A sense of high-class luxury is felt within moments of stepping inside the suite and is complemented beautifully by Villa Geba's iconic sea views.
2 bedrooms, 2 bathrooms, 4 adults, 100 m2
The Sélène suite, luxury top floor loft style apartment spanning 124 m2 and featuring 2 spacious bedrooms. Unwind in luxury whilst takng in the most breathtaking panoramic views of the Adriatic coastline. The Selene suite instantly impresses with panoramic views of the Adriatic sea and a luxurious loft-style aesthetic. Warm tones and elegant bronze highlights feature throughout and draw inspiration from Sélène, Greek Goddess of the full moon. This top floor apartment is a home away from home with its high-class, fully equipped kitchen and cozy lounge spaces.
2 bedrooms, 2 bathrooms, 4 adults, 100 m2
Muse is Villa Geba's exclusive restaurant and home to a skilful pairing of French gastronomy and the best products Montenegro has to offer. The dishes that we put before our guests are not merely consumed, they are felt with each and every one of their senses and we offer our guests the chance to discover something unique and blissful with every bite.
Featuring:
King Size bed 180 x 200 or 200 x 200
Fully equipped kitchen
Wi fi, Safe box
Flat Screen TV
Premium minibar
Luxurious Bathrobes and Pyjamas
State of the art surround sound system
Villa Geba exclusive beach towels and beach bag
Services:
Transport from the airport on request
Geba's spa featuring jacuzzi, sauna, hammam
Valet and luggage services
Private Concierge Service
Maitre de Maison
Laptop upon request
Private Butler Service
Outdoor heated infinity pool
Dine and Muse restaurant and bar
Private Parking or covered garage upon request
Villa Geba 5*, exclusive use for you, boutique hotel. Montenegro, jewel of the Balkans. During your stay, you should visit also Kotor, Skadar lake, NP Durmitor, Perast, Budva, Tara…
Villa Geba is boasting 8 suites of the highest luxury from 100 – 145 sqm and an independent Villa with 4 rooms. They all share a deliciously calm and voluptuous luxury with noble and refined materials, signed fragrance an "sur – mesure" furniture.
Style and elegance, a secret hideaway in Montenegro.
Check-in time
14:00
Check-out time
12:00
Pets
yes
Facilities
Balkon
Feuer-und Rauchmelder
Frühstück
Jacuzzi
Klimaanlage
Küche
Minibar
Parking
Pool
Safe
Satelliten-TV
Sauna mit Dusche
Wi-Fi
Internet
wi-fi
We are sorry, there are no reviews yet for this accommodation.
Sveti Stefan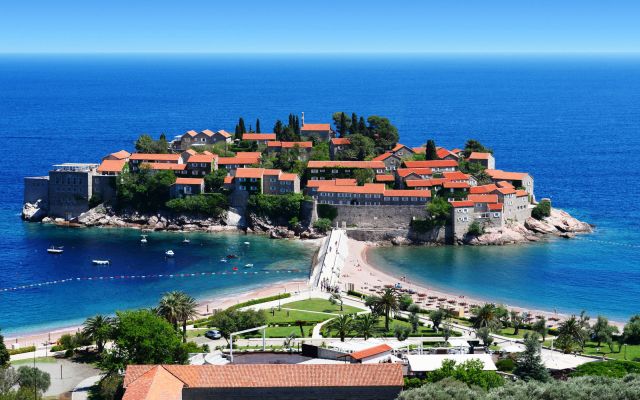 A fortified village dating back to the 15th century, the island of Sveti Stefan, Montenegro is a uniquely atmospheric setting of cobbled lanes, handsome courtyards and serene sea views. A small fortified island home to beautiful 15th-century houses, this is one of Montenegro's tourist hotspots.
The first accounts of Sveti Stefan date from 1442. It was mentioned as a coastal fort that played a significant role in a regional war and is said to have been constructed as a defense against the Turks. Because of its fortifications, Sveti Stefan was a strategically valuable place for many decades, even centuries.
It was virtually destroyed during the fourth Ottoman-Venetian War and rebuilt in the 16th century. at first, the island was solely a fortress, people began moving in in the 1800. A village was established, providing a safe home for about 400 people. In the 1930., a summer home for a royal family from Serbia was constructed on Sveti Stefan.
People such as Orson Welles, Kirk Douglas, Elizabeth Taylor, Marilyn Monroe, David Beckham, Rihanna, Sophia Loren ….stayed in Sveti Stefan during one of their holidays.
Sveti Stefan is exceptionally picturesque. With its terracotta-roofed houses dating from as far back as the 15th century, its rocky shores, and its lush Mediterranean vegetation, this is arguably the star attraction on the coast of Montenegro.
Sveti Stefan beach is open to the public and is a phenomenal place to spend the afternoon.
The Olive Restaurant is a casual restaurant on the mainland. The restaurant overlooks the beach and the island behind it, and it's a nearly perfect setting.
From Sveti Stefan beach, a pleasant walking path leads north to the village of Pržno. This stunning village is home to another incredible beach.
Sveti Stefan is one of Montenegro's star attractions.
Sports & nature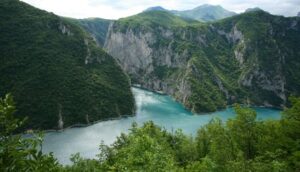 Generous and miserly, cruel and graceful, fascinating nature of Montenegro has always aroused excitement and inspiration. Apart from the peaks, they are adorned by woods, spacious pastures, forty lakes, impetuous and clean rivers, deep and mysterious canyons. Montenegro has five national parks. Durmitor with the Tara River Canyon is part of the world natural heritage. The Tara River Canyon is on the list of international biosphere reserves. Skadar Lake collects water from the mountains intended for the Adriatic Sea.


Nightlife info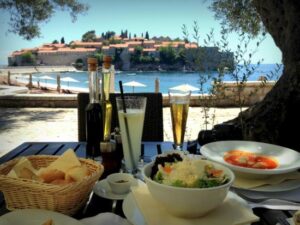 Maestral Resort & Casino is located in one of the most exclusive parts of the Adriatic coast, in the immediate vicinity of Sveti Stefan.


Culture and history info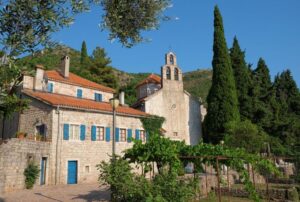 The Ostrog Monastery in Montenegro is one of the most important Serbian Orthodox monasteries. Two main monasteries form the Ostrog Monastery site, separated by a steep pilgrimage walk and a winding road. The landscapes of Montenegro invoke a sense of remoteness and solitude that isn't too often associated with the Balkans. Montenegro is home to five national parks. Lake Skadar, NP Durmitor, Prokletije NP, Biogradska Gora NP, Lovcen NP....

Read more