Availability
We are sorry, this accommodation is not available to book at the moment
Villa Mia
Villa Mia is situated in Višnjan in Istria.
In Villa Mia you will enjoy in true luxury and new philosophy of space and living. Generous rooms for a timeless experience are designed to inspire, while tranquillity connects you with the breathtaking environment of vineyards and oak forest. Each room is unique, but all of them offer all comfort with elegance and beautiful view. They will give you the new experience for restful sleep and heavenly stay appointed with large bathrooms with rain shower and dual washbasins.
Villa Mia will give you refined experience that combines ultimate relaxation with its indoor heated Spa, outdoor pool and wonderful countryside. Villa is an invitation to the authentic taste of Istria, where you can treat yourself to an enthusiastic tasting tour savouring the true freshness of all local ingredients and the best of wine of our cellar.
Villa Mia has under floor heating in all parts of house and reversible air conditioning. There is also an internal and external alarm system and ADSL Internet connection.
Minimum stay: 7 days
Day of arrival: Saturday
TV room, terrace, balcony, furniture in terrace, safe, fireplace, air conditioning, cot available, deck, garden, heating, BBQ, TV, satellite, stereo, DVD, Internet
Stove, oven, refrigerator, freezer, dishwasher, washing machine, dryer
3 bedrooms (2 with double beds and 1 twin room)
3 bathrooms (all with shower)
Price includes:
Daily rent / tourist tax / electricity / water / cleaning / linen /
towels / garden maintenance / pool maintenance
ADDITIONAL INFORMATION:
Deposit on arrival (cash on the arrival): 1000 EUR
End cleaning, bed linen and towels included in the price.
Check-in time
16:00
Check-out time
10:00
Children and extra beds
baby cot on request
Pets
pets allowed
Facilities
Cейф
Cтиральная машина
DVD-плеер
TB
Wi-Fi
балкон
Бассейн
Кондиционер
Кухня
Посудомоечная машина
Спутниковое TB
We are sorry, there are no reviews yet for this accommodation.
Вишнян
Višnjan is a small town in Istria. The name Višnjan probably derives from the Latin word Vicinianus meaning (near), because in the past Višnjan was the closest possession of Poreč.
There, you will recognize the spirit of the rich historical heritage. Every stone, house, street, corner, they speak about  history.
There are a lot of monuments. Several prehistoric settlements were found here and they show the impressive architecture of  past times. You will see the Gothic chapel of St. Anthony the Abbot (Sv. Anton) from the 15th century. Famous town gate decorated with a relief of the Venetian lion from 1517  is in the center. Town walls are  built in the 13th and 14th century. There is  27 meters high bell-tower, Municipal loggia of 18th century, the Parish church, Quiricus and Julita  from the 19th century.
Inhabitants succeeded to preserve their autochthonous offer, a rich variety of traditional Istrian dishes, quality wines, olive oil and many other traditional and ecological products. Agrotourism is very popular. 
You can buy original souvenir made by local craftsmen.
Red soil vines and olive trees are carefully cultivated, green fields feed the rare and powerful autochthonous cattle – Boškarin.
Višnjan is world known for its astronomical achievements.  In Višnjan, there is the famous observatory, which is one of the ten most productive observatories of the world of all times. It is the first in Europe by the number of discovered asteroids.
With this new kind of attractiveness, the astro-tourism, Višnjan region is  known by the number and quality of agro-tourist farms.
The local residents known for their conformity, opened the doors of their homes and offered to visitors real customs and pleasures of the Istrian man.
Sports & nature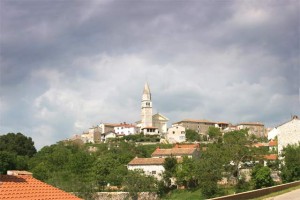 The view from the hill of the old town you will see the green fields and lush vineyards. Local people, on its red soil vines and olive trees cultivated green fields and feed the rare and powerful autochthonous cattle - Boškarin.


Nightlife info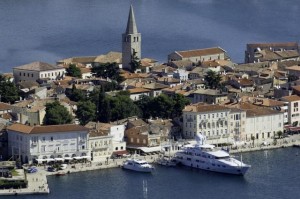 Višnjan is for people who love peace, but not far is town of Poreč. But in Višnjan, there are events as: Astrofest, traditional meeting for astronomy lovers -festival 21.06.-22.06.; Mandalenjina - folk festival; sports competitions and entertainment, 25.07.-26.07.; St.Lovro night - the public perception of Perseids, 12.08.-13.08.


Culture and history info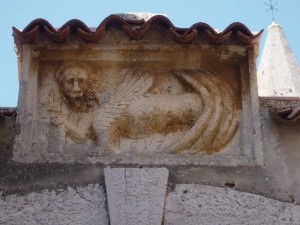 In Višnjan, you will see a lot of monuments. It is a trace of the past. Venetian style Baroque municipal building - from the 17th century, the old square Tićan, Observatory building - the first example of cyber romance; St. Anthony Abbot Church - from the 13th century, the entrance to the old town, with frescoes and Glagolitic inscriptions; Church of All Saints, St. Mary Magdalene - the 16th century; in the cemetery; Cave Baredine- natural geomorphologic monument, beautiful hall decorated with stalagmites, stalactites and underground lakes; Church of St.Kvirik and Julita - from the 19th century; with paintings of Venetian masters from the 17th century....

Read more