Availability
We are sorry, this accommodation is not available to book at the moment
Villa Meneghello
Villa Meneghello is situated on the waterfront and has an amazing view of the open sea, yet it is only a 15-minute walk to the centre of the town of Hvar. Here there is always the buzz of activity and a cosmopolitan atmosphere with people from all over the world. Yet the villa, nestled in a 1,000 m2 large park of old pine trees and exotic plants is completely private, hidden from passers-by. The simple elegance of the Villa belies its modern conveniences.
The two luxurious apartments cover 300 m2.
1- One apartment is on the first floor, and the other on the ground floor.
The first-floor apartment consists of three double rooms, one living room, two bathrooms, a kitchen with a dining-room area and large private terraces.
2 – The ground-floor apartment consists of three double rooms (one with en-suite bathroom), 1 large living room with a dining-room area, a kitchen, 2 additional bathrooms and 1 large terrace with the sea view.
The Villa can also be rented as a whole.
Villa Meneghello has stunning ambience with unique design features and many works of contemporary Croatian artists.
In the park there is a private swimming pool, with hammocks, deck-chairs, coffee tables, a sun deck and a ping-pong table: all for 'dolce far niente'!
You can also swim in the sea and sunbathe on the rocks which are only a s short stroll down a little path
and you are there! Imagine a morning swim before breakfast and quiet times for total relaxation. But, if you feel like visiting the Hvar town centre, or other nearby islands, they are right there, within your reach.
If you are a beach fan, then you can also take a walk to a famous Hvar beach known as Pokojni dol. It is only a couple of hundred meters away and it is ideal for children.
Villa Meneghello in Hvar is the Meneghello family's latest step to delight its many regular guests who were curious about the passion of Hvar summer nights.
Passion and tranquility
Every day guests of Villa Meneghello have a boat at their disposal which can take them from Hvar to the Meneghello Resort on the island of St Clement, part of the Paklinski archipelago. The Meneghello family has just celebrated a hundred years of its special tourism, giving guests from all over the world its unique style of hospitality and Croatian culture, all set in the beautiful luxurious botanical garden that is Palmižana.
If you visit Palmižana you can dine in either of the two excellent restaurants there which serve traditional, Mediterranean food. Here you can wander in nature, visit the museum of amphorae, the gallery with works of renowned artists, the art shop, or experience the Palmižana beaches. Here too guests can also rent small boats, as well as kayaks, to explore the bays of the archipelago.
APARTMENT A- downstairs apt. for 6 people + 2 additional single beds
APARTMENT B- upstairs apt. for 6 people + 2 additional single beds
Minimum stay 7 nights in June, July, August. Less nights booking possible out of the above mentioned period. Arrival days: Saturday, other days on request.
Price does not include tourist tax 1.00 EUR ( per adult per night)
During July and August the villa can be ONLY rented as a whole .
Security deposit– must be provided on arrival in cash:
800.00 € for the rental of whole villa
If no damage was made, the deposit will be fully refunded before departure, upon the handover of the keys.
Check-in time
16:00
Check-out time
10:00
Cancellation / Prepayment
42 days -28 days before the start of your holiday....50% of total holiday amount 27 days-21 days before the start of your holiday ....70% of total holiday amount 20 days before the start of your holiday -not showing up and by interrupting the holiday ...100% of total holiday amount
Pets
Kućni ljubimci dozvoljeni.
Facilities
Balkon
Bazen
DVD Player
Klima uređaj
Kuhinja
Parking
Plaža
Satelitska TV
Wi-Fi
Internet
wi-fi
We are sorry, there are no reviews yet for this accommodation.
Palmižana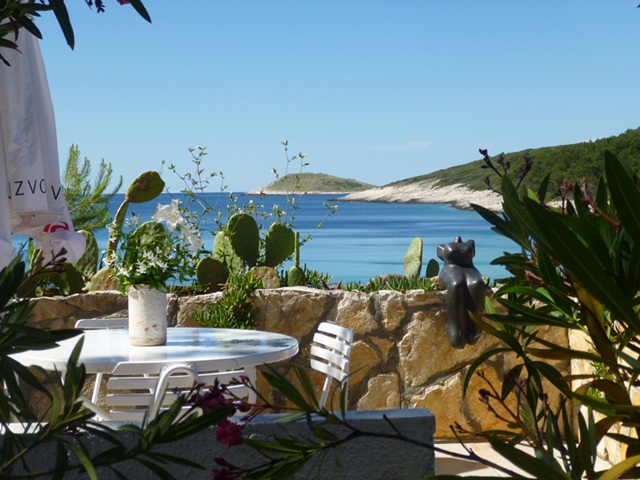 Palmižana je smještena je na Sv. Klementu, jednom od Paklenih otoka. Pjeskovita uvala smeštena je u sjeni starih borova omogućila je obitelji Meneghello da se već 1906. godine na svom 300 godina starom posjedu počne baviti turizmom.
To je poznato turističko utočište umjetnika, slavnih i javnih ličnosti, političara i onih koji vole i traže mir i koji znaju prepoznati istinsku ljepotu. Za Palmižanu bismo mogli reći da je rajski vrt.
Obitelj je na otok donosila brojne egzotične biljke i stvorila rijedak botanički vrt. Godine 1999. Palmižana je svrstana u 10 najljepših turističkih odredišta na Jadranu. Također pripada u najstarije i najpoznatije hvarsko izletište, ali je i nautička marina. Ljeti se mogu vidjeti brojne jahte i poznate ličnosti.
Palmižanska kuhinja zasniva se na ribi, rakovima i školjkama te na povrću iz domaćeg uzgoja.
Palmižana se u sto posljednjih godina mijenjala i prolazila kroz razdoblje kada je bila pionirsko turističko odredište.
Tada je turizam kao pojam tek bio začet u svijetu. U uvalu Eugena Meneghella moglo se doći tek uz posebnu dozvolu vlasnika.
To je bilo izrazito teško vrijeme. U 2. svjetskom ratu Eugen Meneghello je ostao gotovo bez svega, a njegov raj pretvorio se tek u točionicu pića. Njegov sin je velikom upornošću razvijao očevu ideju i od Palmižane ponovno stvarao prepoznatljivo turističko središte. Njegova supruga Dagmar na otok je dovela umjetnost i umjetnike tako da se na Palmižani može uživati u umjenosti brojnih slikara.
Tijekom tog vremena na otoku su se iz cijelog svijeta množile i biljke, a obiteljski botanički vrt  postajao je sve bogatiji različitim vrstama kaktusa, agava mimoza i drugog egzotičnog i mediteranskog raslinja.
Cijelo to vrijeme na otoku nema tekuće vode, pa ni danas, pa se tako može vidjeti vodonosac koji uplovljava u luku.
U današnje moderno vrijeme Palmižana je zadržala još jednu rijetkost, a to je nedostupnost signala za mobitel.
Moglo bi se reći da Palmižana nudi istinski odmor. Uvala broji desetak kućica-apartmana različitih boja i oblika, dva restorana kao i mali muzej-galeriju.
Dagmar Meneghello u uvali je uspjela u posljednjih 40 godina okupiti najveća imena hrvatske umjetnosti.
Uspjela je sačuvati, a i danas brižno skuplja njihova djela. Od uvale je stvorila pravu umjetničku koloniju.
Na Palmižani možete bezbrižno ljetovati ćak i u koliko ste poznata osoba jer možete biti sigurni da će te imati svoju privatnost.
Palmižana spada u najljepša odredišta na Jadranu. Čisto more, prekrasan ambijent i gostoprimstvo nikog neće ostaviti ravnodušnim.
Sports & nature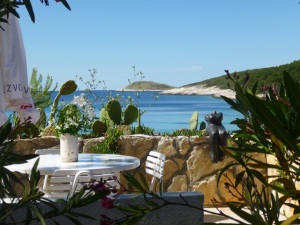 Tijekom tog vremena na otoku su se iz cijelog svijeta množile i biljke, a obiteljski botanički vrt postajao je sve bogatiji različitim vrstama kaktusa, agava mimoza i drugog egzotičnog i mediteranskog raslinja.


Nightlife info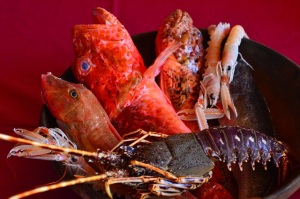 Na otoku se nalaze restorani obitelji Meneghello tako da možete uživati u domaćim specijalitetima.


Culture and history info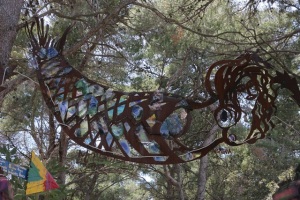 Dagmar Meneghello u uvali je uspjela u posljednjih 40 godina okupiti najveća imena hrvatske umjetnosti. Uspjela je sačuvati, a i danas brižno skuplja njihova djela. Od uvale je stvorila pravu umjetničku koloniju.

Read more