Villa Lanterna
Lighthouse Villa Lanterna***** was originally constructed in 1881 on south-eastern part of the island Vir during the Austro-hungarian reign and it is the official 1st class monument of culture. The main edifice is built of stone and is situated in an isolated spot in pine-tree wood nearby the attractive rocky and sandy beach, which is suitable for families and children. It is categorized as 5* vacation house and intended for accommodation for max.8 persons. The interior and exterior are completely renovated in 2012 in a mixture of traditional Mediterranean and modern style, furnished with luxurious wooden furniture and leather seating-sets.
It consists of two floors in total size of 180 m² large.
On the first floor there are four sleeping rooms, two of which are 21 m² large, one 17 m² and the smallest one 14 m². Each room is equipped with SAT LCD TV, matrimonial bed and bathroom ( bathtub / toilet ). Additionally, two larger rooms have access to the large round balcony that leans around the lighthouse tower and provide a broad panoramic sea view.
The common areas of the house are situated in the ground floor. There is a well equipped kitchen with filter-coffee and espresso-coffee machines, microwave-oven, water-kettle, large refrigerator with freezer compartment and cooking-stove ( electrical and gas cookers ) with oven and dishwasher. Furthermore there is a stylishly furnished dining-room equipped with mini-bar and small wine-tender, a handy bathroom with sink and washing-machine/dryer and a large living room with SAT LCD TV 130 cm² and Wi-Fi internet access. All the common areas and rooms in the edifice are air-conditioned. Safe deposit box available.
Outside of the main edifice there is a large inner courtyard surrounded with stone-wall. Within this pleasurable environment there is an adjacent smaller structure that serves as a mini-wellness and is equipped with sauna, whirlpool, multi functional fitness device and an outdoor sun-deck in the Mediterranean garden. Within this edifice there is also the over roofed outdoor grill.
In addition to the accommodation, secluded beach with deck-chairs and mini-wellness, the following services are also included in the basic price:
• breakfast served every day according to the guests wishes
• changing of linen / sheets by arrangement
• transfer to and from the Zadar or Split airports, or to and from Zadar harbor ( eight persons in two upper-class vehicles or with air-conditioned mini-van )
• baby-cot
• pets upon request
• sojourn tax included in price
In the immediate vicinity of the object there is a large regulated hunting-ground with mouflons, pheasants and quails. In the outer enclosed yard there is a parking spot suitable for four vehicles. Villa Lanterna***** is positioned approx.8 km away from the center of the town Vir, where our guests can enjoy in variety of entertainment in numerous restaurants, wine-cellars or clubs. Island of Vir is connected with the mainland with the road-bridge, which makes it all the more interesting for those who like to browse around, and in the vicinity of Vir there are certainly some very interesting natural and historical landmarks to visit ( the historical jewel Nin, the center of the region Zadar or National Parks Paklenica, Krka and Plitvice lakes… ).
There is no possibility of renting particular rooms, only the complete house with adjacent property.
Maximum number of 8 persons allowed.
Check in: from 15:00h. Check out: until 9:30h.
Arrival and departure days: every day. Staying at the the Villa Lanterna***** for three nights and less possible exclusively upon request with surcharge of 25% on the price in the price list.
A security deposit through credit card validation upon arrival is required to cover the possible costs of damages or breakages.
Rent a villa for the purpose of organizing a wedding with extra charge of 1500€.
Check-in time
15:00
Check-out time
09:00
Pets
Kućni ljubimci na upit
Facilities
Balkon
Doručak
Jacuzzi
Klima uređaj
Kuhinja
Parking
Perilica posuđa
Perilica rublja
Plaža
Roštilj
Satelitska TV
Sauna s tušem
Sef
Wi-Fi
Activities
Otok Vir je povezan cestovnim mostom sa kopnom, što nudi dodatne mogućnosti udobnog obilaska okolnih prirodnih i povijesno-kulturnih atrakcija ( povijesni dragulj Nin, centar regije Zadar, nacionalni parkovi Paklenica, Krka i Plitvice itd.
Internet
wi-fi
Parking
Privatan parking
We are sorry, there are no reviews yet for this accommodation.
Vir
Otok Vir se nalazi se u blizini povijesnog grada Nina i Vir je mostom povezan s kopnom. Na otoku se nalaze tri veća naselja: Vir, Torovi i Lozice.
Na otoku Viru, u zaljevu Kozjak nalaze se ostaci stare mletačke tvrđave iz 17. stoljeća. Otok Vir je jedan od 300 otoka i otočića Zadarskog arhipelaga.
Od sjevera prema zapadu i jugu, Vir je okružen otocima: Pagom, Maunom, Istom, Sestrunjem, Planikom, Olibom, Molatom, Rivnjom i Ugljanom. Ima površinu 22,38 km , dužinu 10,12 km i najveću širinu 4,25 km. Obala Vira je razvedena tako da nalazimo veći broj manjih uvala,  rtova i hridi. Na razvedenost obala utjecao je sastav zemljišta i djelovanje mora.
Šumski pokrov osim crnike (mediteranskog hrasta) i borova sačinjavaju planika, zelenika, smrdljika, smrča i kupina. Od listopadnih stabala najrasprostranjeniji su bagremovi.
Otok Vir je zbog različitog biljnog pokrova, tla i vode je pogodan za život različitih vrsta životinjskog svijeta: zečeva,guštera, zmija, jarebica, ptica, žaba, poljskih miševa, ali i čagljeva i fazana. Od morskih ptica najviše su zastupljeni galebovi i pijurlini (mali galebovi).
Otok Vir ima brojne plaže koje su pješčane i šljunčane. Borova šuma skriva male uvale, a čistoća i bistrina mora daje ugođaj turistima kojih ima u velikom broju.Prije par godina Vir je bio hit destinacija.
U Viru se nalaze konobe koje nude autohtone dalmatinske specijalitete, restorani, pošta, a tu su brojni apartmani i kuće. U blizini Vira na udaljenosti od 26 km se nalazi grad Zadar koji je prava riznica povijesti.Prošlost i sadašnjost sjedinjeni u cjelinu. Nedaleko od Vira je i Nin, povijesni gradić, nekadašnji kraljevski grad. U Ninu se nalazi najmanja katedrala na svijetu, tu je i Grgur Ninski gdje legenda kaže da ga se mora uhvatiti za nožni palac kako bi se ispunila želja. Tu je i poznato turističko naselje Zaton.
U krugu od 100 km se nalaze nacionalni parkovi: NP Plitvice, NP Krka, NP Kornati, NP Paklenica. Također tu je i park prirode Velebit te park prirode Telaščica.
Ljubitelji biciklizma mogu uživati i biciklističkim stazama.
Vir vas poziva da istražite povijest, ostatke utvrda, crkve i da doživite Vir i Dalmaciju na drugačiji način.
Sports & nature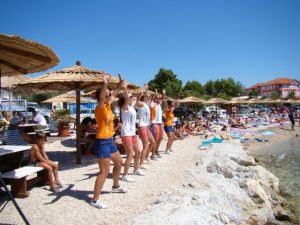 Na Viru se nalaze brojne plaže koje su šljunčane i pjeskovite. Skrivene uvale se nalaze pokraj borove šume. U dužini od 100 km se nalazi nekoliko nacionalnih parkova i parkova prirode. Nacionalni park Plitvice, NP Krka, NP Paklenica, NP Kornati.Parkovi prirode Velebit i Telaščica nikog neće ostaviti ravnodušnim. Ljubitelji biciklizma mogu uživati u biciklističkim stazama i odličnom terenu.


Nightlife info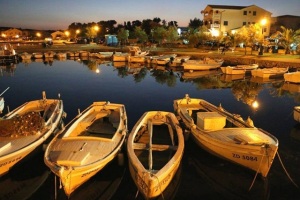 Restorani, kafići, autohtoni restorani-konobe gdje se može uživati u dalmatinskim specijalitetima, ljetne fešte, sve to čini obilježja Vira i Dalmacije.


Culture and history info
Crkve, najmanja katedrala na svijetu koja se nalazi u Ninu, Zadar i morske orgulje, iskopine i ostaci utvrda pruža posjetiteljima upoznavanje s poviješću.

Read more