Availability
We are sorry, there are no rooms available at this accommodation at the moment
Etno Garden
Etno Garden, it is a vacation resort oasis in Plitvice lakes offering the perfect combination of relaxation with an active vacation. Prepare your mind and enjoy.
Rooms and apartments for your unforgettable time. Comfort rooms, traditional food, wine cellar, pure nature. Feel the nature, create your dream vacation. Prepare your mind to memorize the most beautiful place in the world. Enjoy sauna or massage under the oak tree and take a sip of some great wine.
Accomodation for your unforgettable time in the heart of Plitvice Lakes.
Etno Garden apartments, Etno Garden Exclusive, Plitvice Luxury, Green Garden, Green Garden House.
This is a story about the place hidden by the sound of a magical waterfall drops and a dance of a warm wind. Place where everything feels alive and it's secret it well kept for centuries. We will take you through one of the world's wonders and you will feel like you never felt before.
Etno Garden Plitvice Lakes is unique resort placed in the heart of Plitvice Lakes National Park, only 400 meters from the largest lake called Kozjak, away from noise of the main road in a small village called Plitvica selo.
This resort is a place with long tradition. Here you will experience a respect for nature and old Croatian customs. Each season brings something different and exceptional. For example during the autumn you can see pallete of different colours everywhere; in fallen leafs, in all the nuts, vegetables and fruits which mellows in that period.
It is amazing place for your children. This is a place of unspoiled nature and words simply can't describe the beauty of it.
Staying at Etno Garden you will be able to see, feel and experience all the beautiful things this region has to offer.
If you want to spend perhaps a romantic weekend, family trip, group accommodation, celebrations and business meetings, it would be pleasure if you come and visit this beautiful resort.
Start your day with rich continental breakfast, with a cup of hot coffee and warm homemade donuts. You can also taste various kinds of prosciutto, ham and cheese. All of it is made traditional way, organic and fresh.
Enjoy all of that with a glass  of the best wines from our wine cellar and with local liqueurs
In Etno Garden restaurant we can offer you domestic dishes from this area prepared due to traditional recepies.
We take good care that all of our food is made from fresh ingredients, with lot of love and care.
Delighful ambient of restaurant or wooden summer terrace is the perfect place for romantic, family, business lunch or dinner.
Check-in time
14:00
Check-out time
10:00
Facilities
Biljar
Doručak
Klima uređaj
Kuhinja
Mini bar
Parking
Satelitska TV
Sauna s tušem
Sef
Soba za fitness
Wi-Fi
We are sorry, there are no reviews yet for this accommodation.
Plitvice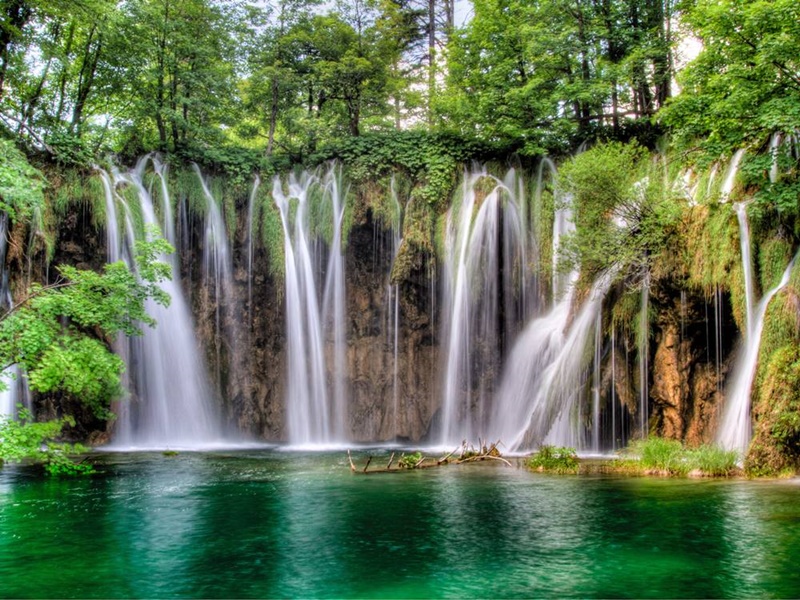 Plitvice, Plitvice lakes is most popular tourist attraction in Croatia. The beauty of National Parks lies in the sixteen lakes, waterfalls, and set in deep woodland populated by bears, boars, wolves, deer and rare bird species. The National Park covers a total area of 300 square kilometres.
It is a stunning place to visit any time of year as the different seasons. The lush greenery in spring/summer, ice in winter, rich colors in autumn…With different levels of lakes, different hiking trails, seven routes through the park, Plitvice lakes is the stunning beauty. It is a very unique destination. Be prepared to take a lot of photos ad around every bend is another beautiful view.
In 1979. Plitvice Lakes became a UNESCO World Heritage Site. Plitvice lakes is 135 km from Zagreb, 136 km from Zadar, 260 km from Split. It is cultural and historical heritage. A region rich in water, flora and fauna, natural shelters, forests and diverse relief have enabled humans to live and settle in this area.
In several of settlements in the Plitvice Lakes National Park area, it is possible to examples of the traditional architecture and way of life. The most prominent are the villages of Gornji and Donji Babin Potok, Vrelo Koreničko, Korana. The population primarily works in tourism and agriculture. It is possible to purchase homemade products such as cheese, honey and liqueur in most of these villages.
Plitvice Lakes National Park should be on your Croatian bucket list for sure.
How many days should you stay in Plitvice Lakes?
It depends on what you are looking for. Why not to stay there for 3 days?
There you will find nice houses for relax, beautiful nature, autochton food,Plitvice is a stunning place to visit any time of year as the different seasons.
Sports & nature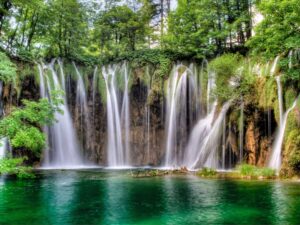 Plitvice, stay for nature and adventure. The park is situated between the Mala Kapela Mountain and the Lička Plješivica mountain. The park is covered in forest vegetation. Experience horseback riding in one of horses ranches, near Plitvice Lakes, discover numerous cycling trails, visit ranch with wild deers, visit old town Drežnik, try adrenaline sports...


Nightlife info
Hedonism, no stress, relax


Culture and history info
In several of settlements in the Plitvice Lakes National Park area, it is possible to examples of the traditional architecture and way of life. The most prominent are the villages of Gornji and Donji Babin Potok, Vrelo Koreničko, Korana.

Read more