Availability
We are sorry, this accommodation is not available to book at the moment
Sveti Ivan na pučini Ap 1
St. John lighthouse, built in 1853. It is located on the most distant islet of the small archipelago in front of Rovinj. This islet is actually a 70 x 50 meter rock with a relatively easily accessible shore and shallow waters, which makes St. John an ideal destination for families with children that would like to spend a Robinson Crusoe type of holiday.
ACCOMMODATION
The 23 m high lighthouse tower offers fabulous view. There are two four-bed apartments in the lighthouse building. The islet has a berth where smaller boats can be pulled out with a crane. Due to splendid underwater sites and numerous species of fish, this destination is very popular for those looking to get away from the everyday life, as well as for those that like to go fishing and diving.
BEACH
Rock formation on St. John is ideal for sun tanning. There are two beaches with shallow waters on opposite sides of the islet. We advise swimmers to be cautious and not to swim far away from the coast due to changing currents.
TRANSFER
Transfer from the port of Rovinj is charged an extra per apartment.
F&B
All provisions can be purchased in Rovinj prior to the transfer, provided you arrive in Rovinj early in the morning.
THE STORY
Legend has it that a Venetian doge was navigating in the direction of Rovinj in unfavorable weather conditions. His crew spotted the dangerous cliffs of St. John on time and changed their navigation route. The doge vowed to St. John to light him a candle as high as a cathedral tower if he made it safe and sound to Rovinj. After having arrived safely to Rovinj, the doge forgot about his vow. Since he was in a hurry back to Venice he did not even light a little candle on. He remembered that he had not kept his promise several months later when he found himself in the middle of a tempest in the same area. His ship was thrown into the cliffs of St. John and the whole crew along with the doge disappeared in the stormy sea.
Depths of the sea that surrounds St. John vary from ten meters to forty meters where the seabed is rocky and rich in flora and species of fish. St. John is perfectly suited for underwater and sports fishing.
Capacity:
2 x 1/4 apartments, with the keeper.
Apartment A2. * * *
Ground-floor, approx. 55 m2, two double rooms (13 and 21 m2), kitchen (16 m2), shower- WC (4 m2).
Apartment A1. * * *
First floor, approx. 45 m2, 2 rooms, kitchen (13 m2), shower-WC (4 m2).
Local tax is not included.
Regardless of season, minimum stay period is 3 days.
Check-in time
14:00
Check-out time
10:00
We are sorry, there are no reviews yet for this accommodation.
Sveti Ivan na pučini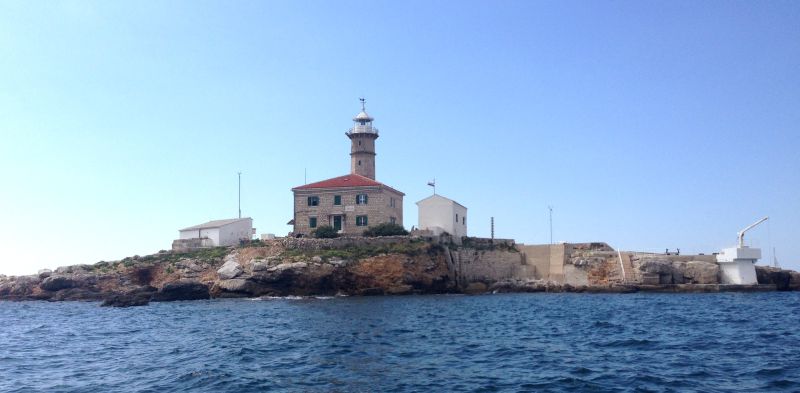 Svjetionik Sv.Ivan, izgrađen 1853. godine, nalazi se na najisturenijem otočiću malog otočnog arhipelaga ispred Rovinja. Radi se o goloj hridi veličine 70 x 50 metara s relativno pitomom obalom i plitkim morem. Kula svjetionika s koje se pruža prekrasan pogled, visoka je 23m. Na otoku se nalazi mali pristan i dizalica za manje brodice.
PLAŽE
Pločasta obala vrlo je pogodna za sunčanje. Iako su i na istočnoj i zapadnoj strani plaže s plitkim morem, plivačima se zbog promjenljivih i jakih morskih struja preporučuje oprez i ne veliko udaljavanje od obale.
PODMORJE
Dubine mora oko Sv.Ivana kreću se od plitkih desetmetarskih brakova do četrdesetak metara dubine položenog hridinastog dna koje obiluje morskom vegetacijom i brojnim ribljim vrstama. Zbog toga su tamo podvodni i sportski ribolov posebno atraktivni.
ZANIMLJIVOSTI
Legenda kaže da je jedan mletački dužd po lošem vremenu plovio u smjeru Rovinja. Njegova je posada u posljednjem trenutku uočila opasne hridi Svetoga Ivana te promijenila rutu plovidbe. Dužd se zavjetovao Svetom Ivanu kako će mu, doplovi li živ do Rovinja, u znak zahvalnosti na istoimenom otočiću sljedećih dana zapaliti svijeću visoku kao toranj katedrale. Stigavši živ i zdrav u Rovinj, dužd se pokajao zbog obećanja razmišljajući o sve manjoj i manjoj svijeći. Konačno, kako mu se žurilo natrag u Veneciju ni malu svijeću nije zapalio na Svetom Ivanu. Neispunjenog obećanja sigurno se sjetio nekoliko mjeseci poslije, kada ga je na istom području zatekla iznenadna oluja. More je njegov brod bacilo na hridi Svetog Ivana, a čitava posada s mletačkim duždom nestala je u olujnom moru.
Sports & nature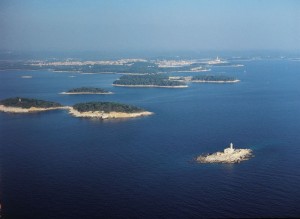 Pločasta obala vrlo je pogodna za sunčanje. Iako su i na istočnoj i zapadnoj strani plaže s plitkim morem, plivačima se zbog promjenljivih i jakih morskih struja preporučuje oprez i ne veliko udaljavanje od obale.


Nightlife info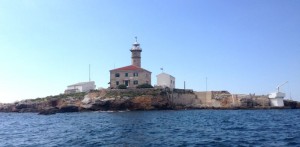 Svjetionik i odmor na njemu je samo za ljubitelje robinzonskog turizma.


Culture and history info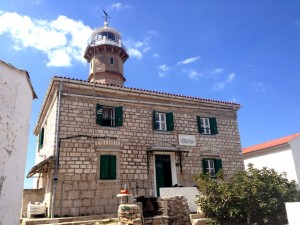 Svjetionik Sv.Ivan, izgrađen 1853. godine, nalazi se na najisturenijem otočiću malog otočnog arhipelaga ispred Rovinja. Radi se o goloj hridi veličine 70 x 50 metara s relativno pitomom obalom i plitkim morem. Kula svjetionika s koje se pruža prekrasan pogled, visoka je 23m. Na otoku se nalazi mali pristan i dizalica za manje brodice.

Read more